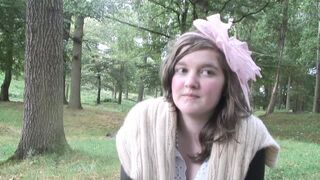 Lady Violet Kensington is the adverse client of the episode "The Creature In The Rye", and was portrayed by Cassie Parkes. She is a daughter of an important cabinet Minister and the great great great great Grandmother to Isabelle Kensington, who Holmes would end up meeting over a century later. She is hugely naieve and prone to getting herself into trouble by never knowing when to shut up.
In the episode, she is captured by Sebastian Moran and Tonga, who plan to demand a Ransom for her return. However, Mycroft Holmes intercedes and persuades his younger more energetic brother to take up the case to track her down.
Cassie Parkes first met NPLH creator, Ross K.Foad, at a London Comic Con 2012, when she was dressed as BBC Sherlock, and him in his NPLH gear. Taking a liking to the keen Holmesian and fellow writer, Ross decided an appearance would be a must at some point. At this same event, Ross would also end up recruiting Adrian Charlton to be Moriarty, though ironically, Adrian was dressed as Sherlock Holmes!
Community content is available under
CC-BY-SA
unless otherwise noted.