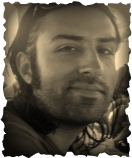 Tonga The Savage is a character in the NPLH universe (and original stories by Sir Arthur Conan Doyle), he was portrayed by Simon Grewal.
He appears in the Great Hiatus years themed episode "The Creature In The Rye" as a sidekick to Colonel Sebastian Moran. Together they have roamed the land causing terror as the "The Beast and The Beast Master". Although the character was shot by Watson in the original Conan Doyle tale - The Sign Of Four, in NPLH it is explained he survived the wound and was nursed back to health by Moran, making him eternally grateful and willing to do his dark bidding.
TRIVIA
This is not Simon Grewal's only Sherlockian outing. He also appeared as a Gypsy in the film: "Sherlock Holmes: A Game Of Shadows", part of which were filmed in Richmond Park - the same location The Creature In The Rye was filmed!
Community content is available under
CC-BY-SA
unless otherwise noted.