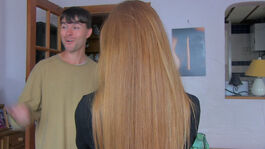 Tim Peaks is a character in the NPLH universe portrayed by Ian Russell. Peaks is the caretaker and odd-job man of the local cemetery that Holmes visits as part of his investigation into the urn thefts in the episode "Ashes to Assets" (Series 5, Episode 3). On the surface he appears a simple minded easy going friendly chap, someone mourners in the cemetery can happily confide in.
However, Peaks is ultimately revealed to be the villain of the episode, having used his position to identify targets for his urn stealing racket. 

Holmes eventually links the theft to Peaks, and reveals the ashes were used as part of a wider conspiracy to turn into diamonds.
QUOTES:
"Caretaker, Gardener, Oddjob man…whatever needs doing really, all done by muggins here"
DID YOU KNOW:
Ian had previously worked with Kelsey Williams (Madeline Chambers) in 1 episode of the web-series "The Gravity Girls", created by former NPLH cast member Angela Holmes.
Community content is available under
CC-BY-SA
unless otherwise noted.