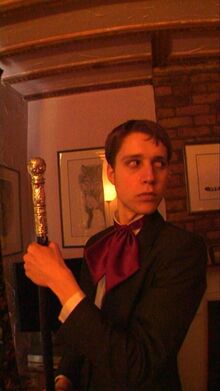 The Two Fold Bond is the 1st episode of the 2nd Series. The 50 minute episode originally ran in 6 parts between March 3rd-April 15th 2011.
The episode is an adaption of the Conan Doyle tale " A Case Of Identity". It sees an injured and ill Sherlock Holmes (as a result of attempting to stop a bank robbery) defy Watsons' orders of resting to investigate the whereabouts of a missing fiance who has seemingly vanished into thin air.
DID YOU KNOW? Edit
Deleted scenes exist with Samuel Coe in the Watson role for this episode, as he had filmed some of it prior to quitting. The scenes were later removed and the episode was heavily rewritten to factor in Miss Blake as Holmes sidekick.
Sherlock Holmes: Ross K Foad
Miss Christine Blake: Tamzin Dunstone
Madeline Chambers: Kelsey Williams
Isabelle Kensington: Maddie Moate
Mrs. Hudson: Linda-Jean Barry
Inspector Lestrade: Teddy Clarke
Community content is available under
CC-BY-SA
unless otherwise noted.