The Mary Morstan Mysteries (often known as M.M.M), was a comedy drama web show spun off from No Place Like Holmes that ran between 2012-2015. Whereas  NPLH is largely set in modern day, with the odd interlude, flashback, or episode to Victorian times, MMM solely deals with the years 1889 onwards. It also acts a bridge to the main series, with many events or situations occurring that ultimately affect what goes on in No Place Like Holmes over a century later.
Origins

[

]
The show follows the adventures of Miss Mary Morstan, the occasionally mentioned in passing wife of Doctor Watson. She appears in the canon tale "The Sign of Four", but is only mentioned sparingly until her death sometime after "The Final Problem". The Mary Morstan Mysteries expands on her character and imagines her to be a problem solver in her own rights, much to the chagrin of her fiance, who would rather she stayed home out of harms way.
The show first came about in 2011, when Lexi Wolfe applied for the vacant position of Doctor Watson in the 2nd series of No Place like Holmes after Samuel Coe left. While Ross felt, a woman would not be right for Watson in his series, he did feel Lexi's sherlockian credentials could lend herself to become an asset in her own right, and so ended up casting her to play Mary Morstan when the time was right.
However, instead of merely appearing in No Place Like Holmes, Ross decided more story could be explored with a companion spin-off show in its own right, and, so, The Mary Morstan Mysteries was born.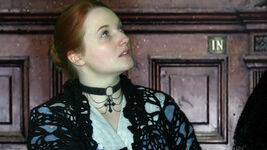 Series Run

[

]
Filming first began in November of 2011, and The 1st series ran between March-December 2012 with 3 x 45minute episodes.
A 2nd series consisting of 4 x 22 minute episodes and 1 x 43 minute episodes began in April 2014, with the final episode concluding in May 2015.
Characters/Cast

[

]
Lexi Wolfe as Miss Mary Morstan
Linda-Jean Barry as Mrs. Hudson
Adrian Charlton as Professor James Moriarty
Kelsey Williams as Gwendolyn Chambers
Ross K. Foad as Sherlock Holmes
Mike Archer as Doctor John Hamish Watson (Series 1)
James Ian Gray as Mycroft Holmes
Guest Stars

[

]
Emma Lillie Lees: Charlotte Chambers
Jonathan Haart: Jack The Ripper
Sandy Slade: Mrs. Forrester
Clifford Hume: Charles Augustus Milverton
Peter Stanford: Inspector Bradstreet
Joe Sandz: Thomas Digweed
Marcus Payne: Bertie Bexton-Fife
Rosanna Smith: Sister Abigail Bliss
Amy Brunskill: Jessica The Barmaid