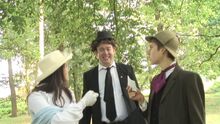 The Creature In The Rye is the 3rd episode of the 2nd Series. The episode originally ran in 4 parts between Oct 1st-Oct 31st 2011. It follows the events of Holmes In Time For Christmas, and see's Sherlock Holmes retelling another story from his hiatus years in 1893.
Sherlock and Irene Adler are still trying to avoid the last strands of the Moriarty Club, but this is soon interrupted when Mycroft Holmes arrives on scene telling Holmes of a tale involving a kidnapped statesman's daughter, a strange creeping man, and a reckless wayward beast.
DID YOU KNOW? Edit
The role of Lady Kensington was originally going to be played by Maddie Moate, who had previously appeared as her descendant, Isabelle Kensington in The Two Fold Bond. Although it is not seen in close up, the photo Mycroft Holmes has for Violet is that of Maddie Moate. However, due to a commitment filming as an O2 Guru, Maddie was unable to fit the role in. The role was subsequently recast to Victoria-Jane Appleton (who would play Miss Bliss in Reign Will Fall), who pulled out one day prior due to illness. This resulted in a last minute recasting with Cassie Parkes eventually taking the role - with just 10 hours remaining till shoot.
Sherlock Holmes: Ross K Foad
Mycroft Holmes: James Ian Gray
Colonel Sebastian Moran: Mark Ridley
Lady Violet Kensington: Cassie Parkes
Mary Wells: Linda Jean Barry
Community content is available under
CC-BY-SA
unless otherwise noted.