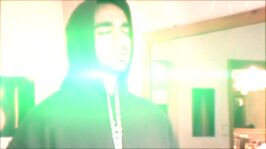 The Absent Phantom is the 2nd episode of the 2nd NPLH series. It originally ran between May 26th-July 21st 2011. The episode, along with The Dubious Spiritualist is one of the most popular ones, despite being of a very supernatural and fantasy nature - something not normally seen in most Sherlock Holmes stories. It see's Sherlock Holmes and Miss Blake investigate the strange goings on of a client who suspects he is being haunted by his dead wife.
DID YOU KNOW?  Edit
Despite there being an entirely rational explanation in the end, the episode still sees Holmes witness some very strange goings on himself. The episode forces Holmes to once again acknowledge there are things in this world we can not always understand.
The episode was originally a feature length 80 minutes in the original run, but this was later cut down drastically to a 60 minute episode during its full length re-release.
This was the first episode we hear of Miss Blakes legendary Auntie Pat, a line which was entirely adlibbed by Tamzin Dunstone.
Sherlock Holmes: Ross K. Foad
Miss Christine Blake: Tamzin Dunstone
Community content is available under
CC-BY-SA
unless otherwise noted.