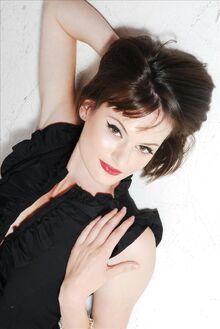 Tamzin Dunstone (b.1987) is an actress who portrays Miss Christine Blake in the No Place Like Holmes series. After Ross K.Foad, she is the shows most senior member, having been in it since the 2nd episode in June 2010.
Tamzin Dunstone On Miss Blake
I think the success of Miss Blake's character lies in her comedic one liners showing her beautiful yet simple mind. Her interaction with Holmes and Dr. Watson attempting to drag them into the 21st century, commands nothing but sympathy from the viewers. I love the character Ross has created contrasting her brilliantly to the eloquent and elegant Holmes. It is a fact that the relationship between Ross and myself is not dissimilar to that of Holmes and Miss Blake. He knows I am not the smartest, and I know fashion is not his specialty.
The ease that comes with working with Ross shows a mutual understanding of our characters and abilities.
Much like Miss Blake, I like to talk, and I have to give credit to Ross and his parents for graciously allowing me to chat incessantly when all Ross wants to do is get on with the scenes. His patience is nothing short of saintly!
Other Works
Tamzin is also known for her extensive theatre work, commercials and her BFI nominee role on British Dogma film "Gypo". Her full C.V can be found here.
Community content is available under
CC-BY-SA
unless otherwise noted.