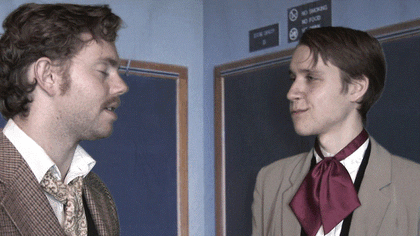 Reign Will Fall is the 2nd episode of the 3rd NPLH series. The 42 minute episode originally ran in 5 parts between November 3rd-November 19th 2012. Frustrated by the lack of information there appears to be on Mr.Holmes, The villainous Red Headed League look to new methods to uncover his past. Meanwhile, a new case means its back to school for Holmes and Watson!
DID YOU KNOW?  Edit
Gene Foad's character in this episode, Mr Phillimore, is based upon a brief passage in the Sir Arthur Conan Doyle tale "The Problem of Thor Bridge". It is in this story we learn there are many more stories that have not been released to the public. According to Watson: "Among these unfinished tales is that of Mr. James Phillimore, who, stepping back into his own house to get his umbrella, was never more seen in this world".
Sherlock Holmes: Ross K. Foad
Miss Christine Blake: Tamzin Dunstone
Braderick Theobald: Barnaby Twyman
Madeline Chambers: Kelsey Williams
Rebecca Constance: Angela Holmes
Miss Katrina Bliss: Victoria-Jane Appleton
Community content is available under
CC-BY-SA
unless otherwise noted.