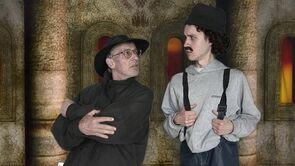 Red Rising is the 1st of the 3rd NPLH series. The episode originally ran in 6 parts between July 21st - August 5th 2012. The episode sees Miss Blake have her handbag stolen while on a shopping trip with Watson. Holmes investigates the theft, but has no idea of the wider implications in store that retrieving it might trigger.
DID YOU KNOW Edit
In the scene where Braderick runs off with Miss Blakes handbag, one passer by thought what he was seeing was real and actually shouted "STOP THIEF" (which can be faintly heard in the final cut), before realising his error once Braderick turned around and joined Miss Blake and Watson once again.
The Auctioneer is voiced by Holmes author and radio play writer, Matthew J. Elliot.
The scene in the high street was witnessed by Julia Leyland, though she had no idea what it was at the time, she later realised what she had seen was NPLH when she applied for the role of Julie Burke and began watching the previous episodes.
Sherlock Holmes: Ross K. Foad
Miss Christine Blake: Tamzin Dunstone
Madeline Chambers: Kelsey Williams
Braderick Theobald: Barnaby Twyman
Rabbi Hymes Coleslaw: Gene Foad
Auctioneer: Matthew J. Elliot (VOICE)
Community content is available under
CC-BY-SA
unless otherwise noted.