P.C. Crawford is a grumpy Police Constable in the NPLH universe. He was portrayed by Keith Ackerman.
He appears in the episode "Dawn Of The Red" (Series 4., Episode 1) serving as an antagonist to Holmes and Watson's ring finding quest. He is a bitter sarcastic officer with over 30 years of experience and does not suffer fools gladly. Guilty until proven innocent is his approach, no matter who he might upset along the way.
When he discovers Holmes and Watson outside a school looking for Michelle River's ring, he immediately jumps to the conclusion they are pedophiles, and the fact they cannot produce the ring they claim to be looking for only serves to prove his point (in his mind at least).
However, a routine name check reveals Holmes, and Watson are marked with an immunity marker, and should not be arrested at any cost at this stage, much to their delight, but not to mention confusion.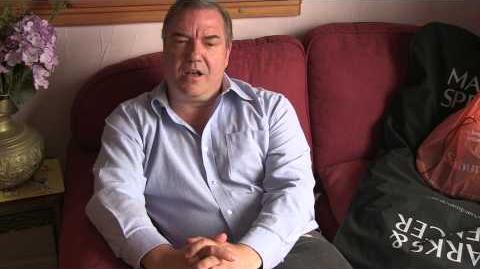 TRIVIA
P.C. Crawford's name is a tribute to H. Marion Crawford, who played Watson in the 1954-1955 T.V. Series "Sherlock Holmes".
Community content is available under
CC-BY-SA
unless otherwise noted.