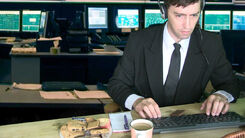 Police Constable Andrew Boffy Burke is a character in the NPLH universe. He is portrayed by Tony Carpenter.
A 10-year veteran of The Metropolitan Police, P.C. Burke is an experienced and hard working if not slightly nervous officer. He is the hen-pecked husband of School Teacher Julie Burke, together they have a ten-year old son, Christopher, who he often (worryingly) turns to for advice.
The seemingly simple soul's world is turned upside down when he makes the mistake of running a name check on Sherlock Holmes and Doctor Watson, and mistakenly manages to access a top secret file which reveals they have been placed on a high-security surveillance for quite some time. At first he thinks little of it, but this quickly changes when Shadowy government agents start following his every move and urging him to keep quiet.
And while he may not the quickest off the draw, since his kidnapping by Agent Pinkerton, he is increasingly convinced something very untoward is going on.
Appearances Edit
Burke first makes his appearance briefly in the 2013 episode "Dawn Of The Red" (Series 4 Episode 1), in which he runs the name check on Holmes and Watson upon the request of P.C Crawford. He later appears as one of the main characters in "A Study in Secrets" (Series 4 Episode 4).
Burke also make a brief cameo in the special "Old Habits Die Harder" (a remake of the 2nd ever episode), in which he just misses Holmes and Watson's time-skip arrival from 1895 to 2010, due to being too engrossed in The Beano.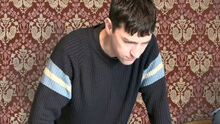 Tony first guest starred as aristocratic toff, Henry Boffy, in the spin off series "The Mary Morstan Mysteries" in 2012, before joining as a recurring guest star and occasional cinematographer for the show.
P.C Burke's son, Christopher, is portrayed by Tony's real life son Zac.
His name is derived from Doctor Watson actor, David Burke, who played the good doctor prior to Edward Hardwicke in the Granada Series.
"Eat Your Pea's son"
"It's the best, but you don't want the ones with Mushrooms in it"
"Well how can I be worried about it when you won't tell me what it is?"
Community content is available under
CC-BY-SA
unless otherwise noted.