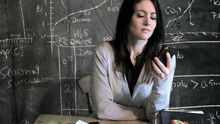 Mrs. Julie Burke is a character in the NPLH universe portrayed by Julia Leyland. She is an English Teacher at the Bruce Stock Academy, and the wife of series regular, P.C. Andrew Burke, as well as the mother of Christopher Burke. A strong opinionated woman (especially on the subject of mushrooms) who is obviously very devoted to her husband, but it very clear which of them wears the trousers in the family.
Appearances
Julie first appeared in Series 4, Episode 4 "A Study In Secrets", in a telephone conversation with her husband. When Andrew tries to tell Julie about his encounter with Agent Pinkerton, he is promptly cut off thanks to a bugging device planted by the shady government agent.
She later appears in Series 5, Episode 1 "The Sign of Things to Come", as a client of Holmes, desperate for help in locating her missing Husband. When Holmes realises her husband is the same officer who tried to warn him of a conspiracy against him, but failed to show up to their meeting, he willingly offers to take on the case on a no-fee basis.
Trivia
Julia actually witnessed the filming of some scenes of the episode "Red Rising", that were filmed in the High Street of Kingston, Surrey. She had no idea what it was that was being filmed, but watched with an intrigued interest. Later upon applying for the role of Mrs. Burke and watching some of the previous episodes, she realised this was what she had seen being filmed 2 years prior.
Quotes:
"It's not the one with Mushroom's in is it? You Know I don't like the one with mushrooms in it."
Community content is available under
CC-BY-SA
unless otherwise noted.