ecil Forrester is a character in The Mary Morstan Mysteriesrseries (as well as the original stories by Sir Arthur Conan Doyle) and was portrayed by Sandy-Kate Slade. She is the best friend and former employer of Mary Morstan, who she once employed as a Governess for her son.
Appearances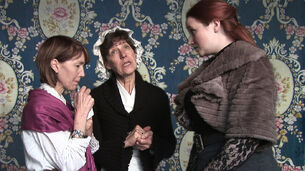 She appears in the episode "Morstan Vs. Milverton" (Series 1, Episode 3). The episode see's Moriarty coming into receipt of some very saucy and scandalous letters between Mrs. Forrester and her former butler. Moriarty commissions Milverton to administer the blackmail on his behalf, but unfortunately for him, Mrs. Forrester just happens to be the best friend of Mary Morstan, who vows to fight the threat any way she can.
The two embark on an investigation into Milverton's past in a bid to find some dark secret they can use to turn the tide against his threat.
In 2013, Mrs. Forrester also appears in the short "The Great Sherlock Holmes Debate 4 sketch".
Community content is available under
CC-BY-SA
unless otherwise noted.