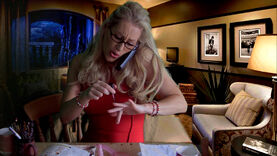 Michelle Rivers is a character in the No Place Like Holmes Series portrayed by Samantha Rea. Michelle is the best friend to Miss Christine Blake, and is just as ditzy, if not more. She shares Miss Blake's interest in shoes, fashion, shoes, shoe shopping, shopping for shoes and fashion shopping for shoes. She works as a receptionist at The Bruce Stock Academy; a site which is the scene of the crime in both "Reign Will Fall" and "Dawn Of The Red"
Michelle first appeared as a client that Holmes reluctantly agrees to help in the 1st episode of the 4th series "Dawn of The Red" in August 2013. She later appeared in the 2014 special "Old Habits Die Harder"; in a telephone conversation with Miss Blake.
She also appears frequently in the novel "Of Shoes and Sherlock: The Diary Of Miss Christine Blake".
Samantha is uniquely the only known actor to have appeared in 3 modern set day Sherlock Holmes series. For aside her appearances in NPLH, she has also appeared as an actress in both BBC "Sherlock" and "Elementary".
Community content is available under
CC-BY-SA
unless otherwise noted.