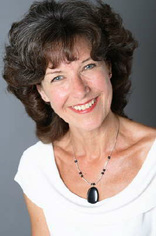 Linda-Jean Barry (b. 13th August 1950) in Rugby, Warwickshire, England is an actress who portrays Mrs. Hudson in "The Mary Morstan Mysteries" and "No Place Like Holmes".
Linda-Jean Barry On Mrs Hudson
I based my take on Mrs. Hudson on my mum- in-law who was a wee gal from Enochddhu in the highlands of Scotland. I love Mrs. Hudson because she has a heart of gold beneath a steely determination. She has the measure of Holmes who drives her insane with his shenanigans but she also has such a deep affection for him. I also  love her wry sense of humour . She is great fun to play and Ross writes so brilliantly, learning it come very naturally.
Other Works
After graduating from Manchester University (BA HONS DRAMA) and The Central School of Speech and Drama, Linda  began her career in 'Music Hall' at the famous 'Players Theatre' under the arches at Charing Cross London. Numerous repertory seasons followed, most notably at The Library Theatre Manchester under David Scase and' The Oldham Coliseum' under Kenneth Alan Taylor, which led directly to several television appearances with Granada TV including a short spell in Coronation Street .
Following a leading role in Mike Harding's musical 'One Night Stand',  further West End productions beckoned including "Josephine"  "A Soldier's Fortune" and 'ALFIE'.
Throughout her career, She has enjoyed making a wealth of commercials all over the world, together with training films, Corporate films, shorts, student films and more recently photographic stills and web shows on Youtube.
Community content is available under
CC-BY-SA
unless otherwise noted.