Kelsey Williams (b. 15th October 1989) in Birkenhead,Wirral,England, is an actress who portrays Madeline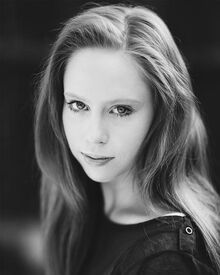 Chambers in the No Place Like Holmes series, as well as Gwendolyn Chambers in the spin off "The Mary Morstan Mysteries". She is the shows 3rd most senior member after Ross K.Foad and Tamzin Dunstone, having appeared in the 3rd episode of the 1st series back in September 2010.
Kelsey Williams on Madeline and Gwendolyn Chambers
This will probably sound rather silly as comedy largely makes up Madeline's role – but I never realised I could be a remotely comic actor until I picked up the very first script I was given for her. Up until then, I had only landed serious roles – and that was in theatre! No Place Like Holmes was also my first real opportunity to act on screen and honestly, I didn't really think I'd be much cop at it. I was pretty sure that after spending a whole day trying to bash a credible performance out of me, Ross would never want to work with me again – luckily, things didn't go quite that badly and three years down the line I'm still here! I also learnt that playing a villain can be incredibly cathartic – and that we all have a little bit of evil lurking in us somewhere... Well how else can an actor make you believe their character is bad to the bones?
Madeline and Gwendolyn have a couple of major differences for me; the first being that Madeline is a comedic role whereas Gwendolyn is primarily a more dramatic role. Gwendolyn is also in the 'underdog' position; while Madeline is in charge (or at least thinks she's in charge) of The Red-Headed League, there is no pretence over who is the leader when it comes to Gwendolyn and Moriarty. However there are striking similarities between the two; a deep-rooted hatred for authority, a penchant for wealth and fine jewellery, and a total lack of empathy for those around them – to name but a few. I wouldn't really say I find it difficult to switch between the two as they are both completely different people in my head – they have different back-stories, different lives, and lived in totally different worlds. The only real constant in both worlds is the presence of Sherlock Holmes and Doctor Watson, which I believe to be a huge catalyst for such parallel behaviour.
Other Works
Aside from holding duel roles in the NPLH/MMM universes, Kelsey is also a presenter on the "The Diogenes Documentaries" series that also fall under the wider NPLH handle. But outside the Holmes world, Kelsey holds a hugely impressive resume of theatre credits, video game voice overs, and short films.
Community content is available under
CC-BY-SA
unless otherwise noted.