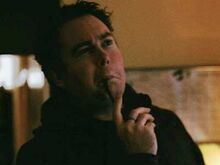 James Ian Gray (B 1985, in Grantham, Lincolnshire, England) portrays Mycroft Holmes in the No Place Like Holmes and Mary Morstan Mysteries series.
Although popular for his pompous performance of Sherlock's older brother, which he has played since 2010, Gray is not actually an actor by trade. He works predominantly behind the camera as a Director of Photography, DIT Technician and Sound Crew positions.
His role as Mycroft came about quite by chance, when a friend of Ross suggested James as a possible fit when he described the type of person he was looking for to her. Despite not being an active actor, he had some college theatre training and she figured James would actually fit very well in the role. A prediction that proved to be very true in the eyes of cast and fans alike.
Community content is available under
CC-BY-SA
unless otherwise noted.