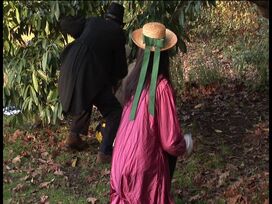 Holmes in Time For Christmas is the 4th and final episode of the 1st Series. It originally ran in 6 parts between 18th-24th December 2010. The episode has a run time of 45 minutes.
Sherlock Holmes has always spoken little on the events following his fall and 'death' at the Reichenbach falls, his miraculous return has always been shrouded deep in mystery. Only the scantest of details has ever been told, even to his closest friend Doctor Watson. That is until one fateful Christmas Day, Holmes decides to enlighten his friend on one of the most harrowing and twisted cases he has ever investigated whilst working under the alias of Norwegian Explorer Sigerson during the Christmas of 1893. Reluctantly teaming with his elder slothful brother Mycroft and forming the most unlikely of alliances with 'The Woman' Irene Adler, the trio set out to halt a spate of seasonal themed killings that have left a sleepy Sussex village with a fear of the festivities. But will the combined intelligence of the Holmes Brothers and the resourceful Woman be enough to track down the killer and prevent any more killings in time for Christmas?
This was the first episode to utilize satsumas, an item which would become a mainstay for Mycroft Holmes's character. In all episodes that followed this, he can always be seen holding a Satsuma at some point.
Sherlock Holmes: Ross K. Foad
Mycroft Holmes: James Ian Gray
Doctor John Watson: Samuel Coe
Rev. Archdale: Danny D'anzieri
Mildred Carruthers: Scarlett Marshall
Colonel Sebastian Moran: Mark St. John Ridley
The story was later adapted into a novelpublished by MXpublishing, and an audio booknarrated by Martyn Clements.
Community content is available under
CC-BY-SA
unless otherwise noted.