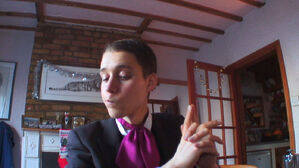 Hats Off Mr Holmes is the 4th and final episode of the 2nd Series. The 22 minute episode originally ran in 3 parts between Dec 22nd-Dec 24th 2011.
The episode is partly inspired by the original Conan Doyle tale, The Blue Carbuncle, it opens with Holmes very bored of the modern day festivities, and all he really wants for Christmas is a bloody good case.....famous last words when a blood stained hat comes into his possession, and the owner must be found..dead or alive.
DID YOU KNOW? Edit
The episode was originally written with two separate versions. One with just Holmes and Miss Blake, and the other with Holmes, Watson and Miss Blake; as at that point, no new Watson had been cast to replace Samuel Coe and it was not known whether anyone would be. This is the only NPLH episode that is not specially written for Mike Archer, all subsequent episodes and lines, much like all cast members, are written to tailor to his strengths and own portrayal.
Sherlock Holmes: Ross K Foad
Doctor John Hamish Watson: Mike Archer
Miss Christine Blake: Tamzin Dunstone
Community content is available under
CC-BY-SA
unless otherwise noted.