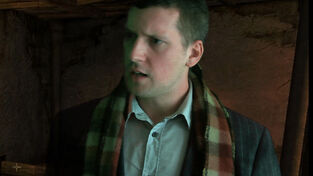 Harry Grubs is a character in The Mary Morstan Mysteries, and was portrayed by Peter Tyrrell. Grubs is a hapless rouge whose only knowledge is in wheeling, dealing and stealing; none of which he is competent in. He attempts to make off with funds at the Orphanage in the episode "Murder Most Horace".
He is apprehended by Mary (as Horace Moustachio), but she is chased off by Inspector Bradstreet, who is convinced Horace is responsible for a murder.
Quotes:
"I would have got away with it....if it weren't for my crime being found out"
"Help Help! It's You! Horace Moustachio"
"Actually, I was wondering when you were going to take your foot off me".
Community content is available under
CC-BY-SA
unless otherwise noted.