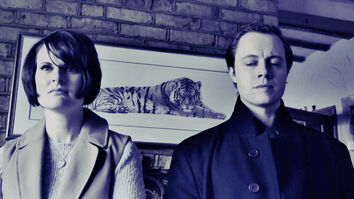 Grant Rochester (aka Grant Barnes) is a character in the NPLH universe portrayed by Alexander Allin in the episode "Holmes is where the Heart is". He is the villain of the episode alongside his wife, Bridgette. They work together to scam and burgle the homes of single ladies who use Bridgette's dating agency. The typical set up being Grant would pose as an awaiting client at the agency, and then get talking to any woman in the waiting room. A charming, well-connected, and handsome man, he has no problem striking up a conversation or date that would soon get him invited back to their home. Once there he would get a layout of the place and note any valuable items of worth. Later, when he would be taking the lady on a date, his wife would burgle the place safe in the knowledge that she can do so uninterrupted. 

Their plans only fall apart when they decide to target Miss Blake, and Grant soon finds himself under the suspicious gaze of a very protective Sherlock Holmes. Aided by Madeline, he eventually manages to uncover a connection between a group of women that have had a recent burglary, and also used same Marriage Bureau that Miss Blake had been using.  As a result, Holmes orchestrates a setup that puts him, Miss Blake, and both Mr. and Mrs. Barnes all at one location simultaneously. It is here that Grant is forced to confess the truth to Miss Blake and subsequently receive his punishment in the form of one exceedingly scorned women.                                                  
Community content is available under
CC-BY-SA
unless otherwise noted.