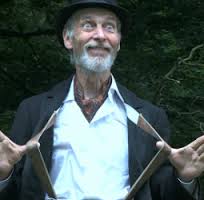 Gene Foad (b 8th September 1951) in Hillingdon, Middlesex, England is an actor and cinematographer on the No Place Like Holmes and Mary Morstan Mysteries Series. He is also the father of series creator Ross K.Foad.
Unlike the other core cast, he does not have an established character. Every episode sees him playing a different character entirely. However, there are similar recurring traits for every character - they always have a degree of madness, have a silly name as possible, and are often in a position of authority or trust, despite being horrendously incompetent.
Other Works
He has had many other leading screen roles, including parts in The Lake, Dickens of London,  Penmarric, November Man, Love of a Good Man, Hannibal-Captured on Film and the popular Ch4 TV soap, "Brookside." His stage leads include Macbeth, Richard III, Bosola in Duchess of Malfi, and Marchbanks in Candida. He has also recorded over 150 audio books and directed over 70 productions. 
Community content is available under
CC-BY-SA
unless otherwise noted.