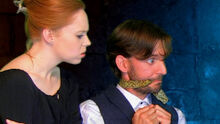 Experiment S is a character in The Mary Morstan Mysteries, and was portrayed by Stephen Lewis. He appears in the episodes "The Day the Milk Ran Dry" and "Murder Most Horace".
He was one of the earliest test patients of the Super Simian Serum for Moriarty, but did not receive any of the benefits of having super strength or speed as later candidates would gain.  Instead, his mind quickly degenerated into a glazed stupor of madness, but one that occasionally displays a basic level of understanding for his surroundings and an obsessional desire for dusting - a skill which gave Moriarty reason to keep him alive - for now at least.
Community content is available under
CC-BY-SA
unless otherwise noted.