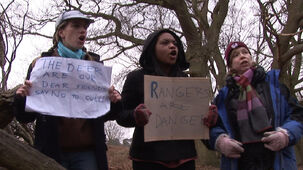 Dialysis Murder is the 3rd and final episode of the 3rd NPLH series. The 42 minute episode originally ran in 4 parts between March 30th-April 21st 2013.
The episode follows Holmes investigating the murder of an animal testing lab technician. All fingers point to the animal rights campaigner, Daniel "Moonshine Digweed", who previously attacked the lab worker, but Holmes is not so sure.
DID YOU KNOW? Edit
One of the animal right protesters is played by Dasha Ches, who Ross would later cast as Russian spy Klara Resnick in the episode "Heat of The Moment". (S4 E3).
Sherlock Holmes: Ross K. Foad
Miss Christine Blake: Tamzin Dunstone
Madeline Chambers: Kelsey Williams
Teresa Fairweather: Sal Bolton
Ranger McCreath: Brett Underwood
Daniel MoonShine Digweed: Joe Sandz
Rebecca Constance: Angela Holmes
Animal Rights Protestors: Dasha Ches, Laraine Dix, Elaine Brain, Dolapa Umur, Kerridwen Negros, Chris Boote.
Community content is available under
CC-BY-SA
unless otherwise noted.