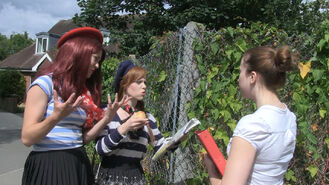 Dawn Of The Red is the 1st episode of the 4th NPLH series. The episode originally ran in 4 parts between August 26th 2013 - Sept 16th 2013. The episode sees The Red Headed League stumble upon a breakthrough in finding out about Sherlock Holmes past. The only problem is, to get to it, they are going to have to indulge in some deviancy, disguises and dire french accents. 
DID YOU KNOW?
Despite being best friends on screen, Tamzin Dunstone and Samantha Rea have never actually met. This was because a traffic rerouting prevented Tamzin being able to make it to the scheduled day. As a result, the scene was still shot with Mike, Ross and Samantha; then on a later date with Mike, Ross and Tamzin. This is why Miss Blake keeps her distance at the doorway while Michelle is seated for the duration of the scene.
The two officers surnames in the episode are a nod to two doctor Watson actors - David Burke and H. Marion Crawford.
Rosanna Smith took over the role of Miss Bliss from Victoria Jane-Appleton. She originally applied for the role of Anna Westlake, but due to her similar look was cast to replace Victoria-Jane. She even attended her audition wearing a replica costume to that of the original Miss Bliss.
CAST
 Sherlock Holmes: Ross K. Foad
Madeline Chambers: Kelsey Williams
Rebecca Constance: Angela Holmes
Miss Katrina Bliss: Rosanna Smith
Miss Christine Blake: Tamzin Dunstone
P.C Andrew Boffy Burke: Tony Carpenter
Community content is available under
CC-BY-SA
unless otherwise noted.