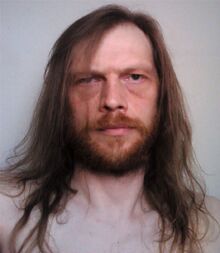 Colonel Sebastian Moran is a character in the NPLH universe (as well as the original stories) who was portrayed by Mark Saint John Ridley. He is a member of The Moriarty Club and Holmes once described him as "the second most dangerous man in London" - the most dangerous being Professor Moriarty, Moran's employer.
Born in London in 1840, he is the only son of Sir Augustus Moran, CB, sometime Minister to Persia.
He was educated at Eton College and the University of Oxford before embarking upon a military career. Formerly of the 1st Bangalore Pioneers (Madras), he served in the Jowaki Expedition of 1877-1878 and in the Second Anglo-Afghan War.
In No Place Like Holmes, he first appeared briefly towards the end of the 1893 set episode "Holmes In Time For Christmas" (S1 E4), threatening to kill Holmes at a time and place when "the eyes aren't as plentiful". He also appears as the main villain in the episode "The Creature In The Rye" (S2 E3), in which he kidnaps a Minister's daughter for a ransom.
Mark Saint John Ridley got the role when he set up an e-mail account in the name of Colonel Sebastian Moran, and then e-mailing NPLH creator, Ross K. Foad, to announce he was too busy to appear in any film about him, but he could recommend his good friend and doppleganger - Mark Saint John Ridley. On top of having a fantastic look, the stunt persuaded Ross that Mark was the only possible choice for the role.
"I've bagged tigers in Timbuctoo, antelope in Africa.....guinea pigs in Guildford....."
"Rest assured, one day I will track you..and kill you"
"You didn't go to Eton! I went to Eton!"
Community content is available under
CC-BY-SA
unless otherwise noted.