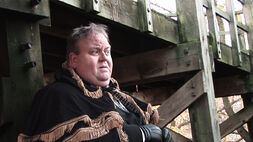 Charles Augustus Milverton is a character in the NPLH Universe (as well as the original stories) who was portrayed by Clifford Hume. He is a member of The Moriarty Club and one of the most dangerous blackmailers in London. In The Mary Morstan Mysteries, he is the main villain of the episode "Morstan vs. Milverton" (Series 1, Episode 3).
Following the receipt of some very saucy and scandalous letters between Mrs. Forrester and her former butler, Moriarty commissions Milverton to administer the blackmail on his behalf, but unfortunately for him, Mrs. Forrester just happens to be the best friend of Mary Morstan, who vows to fight the threat any way she can.
Clifford Hume was especially well received for his part as Milverton. Notable Sherlockian, Roger Johnson (Editor Of The Sherlock Holmes Journal) noted in his foreword for The Mary Morstan Mysteries companion guide book that: "Watch the episodes first, not least for Clifford Hume's magnificent turn as Charles Augustus Milverton"
"Refusal is not an option, I know every trick, trap, and ploy in the book...it is not for nothing I am known as, The Master Blackmailer"
"I am Charles Augustus Milverton, who...or what, are you?"
"Not paying? There is no not paying Miss Morstan"
Community content is available under
CC-BY-SA
unless otherwise noted.