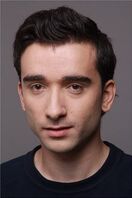 Billy Henson is a character in the NPLH universe. He is the former boyfriend of Miss Blake, and one of the earliest villains of the series. This drug dealer is a man of no morals, he is happy to lie, cheat, and steal his way through life. Until Holmes and Watson showed Miss Blake his true colours, he also had a manipulative control over every aspect of her life.
Actor(s)
Henson was first played by David Evans in the episode "Old Habits Die Hard". In the remake special "Old Habits Die Harder" (2014), he was portrayed by Bluehomie.
Trivia
Henson was originally scripted to appear in the episode "The Two Fold Bond", joining Madeline Chambers in her bank robbery attempt, but Evans pulled out on the day due to a work-emergency. Rather than scrap the day, the filming went ahead with Madeline absorbing most of the lines intended for Henson.
Community content is available under
CC-BY-SA
unless otherwise noted.