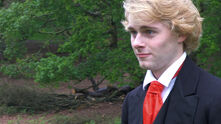 Bertie Bexton-Fife is a character in The Mary Morstan Mysteries series, and was portrayed by Marcus Payne. He is the pompous aristocratic landowning neighbour of Elmer Hudson, and is keen to take over his farm to expand his own property empire. Bertie has no obvious conscience of his own, and is perfectly content to sneer, smear and schmooze himself into getting whatever he desires, which is normally ghastly expensive and excessively elaborate.
A fan of fox hunting, expensive wine and cricket; Bexton-Fife is the red herring villain of the episode "The Day The Milk Ran Dry", and is the chief suspect for the spooking of the animals at Elmer Hudson's farm.
Trivia
Marcus had previously worked with NPLH star, Angela Holmes, on the film "Rock Band vs. Vampires", and came across No Place Like Holmes when he was looking at her own acting background on IMdb. He looked it up out of idle curiosity, but soon found himself thoroughly enjoying the show, and so decided to submit an expression of interest form via the NPLH website, ultimately resulting in his casting in the role of Bexton-Fife in spin off - The Mary Morstan Mysteries.
Community content is available under
CC-BY-SA
unless otherwise noted.