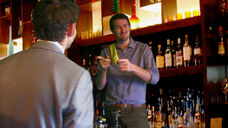 Barry Tavern is a character in the NPLH universe portrayed by Rob Cummings. He is the owner and bartender of the fictional pub, "The Canbury Arms" which is often referred to throughout the series. Tavern is a somewhat sleazy geeze of guy, but is essentially harmless - as long as you pay up.
He is a fiercely proud Englishman, with a borderline racist approach to all things French. In the NPLH Special "Old Habits Die Harder" (the remake of the 2nd ever episode) Holmes mistakenly tries to pay for his drink using a Victorian coin. Thinking it French, Tavern proceeds to lambaste Holmes with a tirade of abuse until it occurs to him, it is actually an old coin.
Once Tavern realises that he should be able to flog it for "Fair Whack" on E-bay, he promptly becomes all smiles and assists Holmes and Watson in locating Billy Henson.
TRIVIA
Rob initially applied to play the role of Sir Hugo Baskerville in the first NPLH special "Moving Two Steps Forward". However, while he did not get the role, Ross really liked his style and look and specifically wrote the character of Tavern for Rob to play.
QUOTES
"The Mintiest in London" (on the subject of the pea's he serves)
"Are you some sort of French or something? Well Marcel, you can take your eurocent, or whatever the hell this is! Go down the road to the Onion shop, and get yourself a croissant!"
"Whose this Queen Victoria then eh? The King of France???"
Community content is available under
CC-BY-SA
unless otherwise noted.