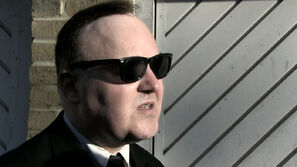 Agent Pinkerton is a character in the No Place Like Holmes Universe portrayed by Philip Hutchinson. He is one of the lead agents of a Shadowy Government initiative, whose power and reach is far greater than most can comprehend. He first appears in the episode "A Study In Secrets" (Series 4 Episode 4), to warn P.C. Andrew Burke from ever mentioning what he has discovered about Sherlock Holmes.
On a routine name check, for reasons unknown to Burke, he notes Holmes, and Watson has been flagged with immunity to arrest, and are under top secret surveillance - something that should not have been so easily available on the Police National Computer.
A brash, stoic, unreasonable man; the fact P.C Burke can hardly recall doing the check is not considered important to Pinkerton, and as a result of possessing this knowledge, Pinkerton begins following Burke's every move, ultimately resulting in Burke trying to warn Holmes of him; an action that causes him to be kidnapped, and removed to a prison cell in an unknown location.
What Pinkerton wants is anybodys guess. Is he a friend or is he a foe? Only time can tell.
TRIVIA
Agents Pinkerton name is derived from "The Pinkerton Agency". An American based Private Detective firm that crops up in a number of the original short Sherlock Holmes stories by Sir Arthur Conan Doyle.
Hutchinson is a member of Lucky Dog Theatre. A group which also consists of NPLH actors Kelsey Williams and Tony Carpenter.
QUOTES
"Following you? No, I was just in the area...passing through...on my way....to...buy...some.........pasta sauce.."
" Oh you don't need to worry about who I am, what you need to be worry about is what I might do"
Community content is available under
CC-BY-SA
unless otherwise noted.