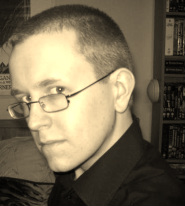 Adrian Charlton is an actor who plays Professor James Moriarty in "The Mary Morstan Mysteries", as well as having voiced the character in No Place Like Holmes.
Adrian started his career as an actor on stage in productions such as "A Clockwork Orange" and "Closure". He has been acting since a young age but until joining "The Mary Morstan Mysteries" cast, he had not acted in front of the camera before, but turned out to be a complete natural in the role of the villainous Professor Moriarty, playing it with an irascible, amusing and strong performance. His performance proved popular with fans so he became quickly moved into the core team.
At the London Comic Con Expo in May 2011 he dressed up as as Sherlock Holmes and met NPLH creator Ross K Foad, who later asked him if he had any interest in playing the role of Professor Moriarty in the spin off show he was due to create. Adrian, oddly enough, knew all about NPLH and willinginly agreed to come on board for the role. He is a true die hard Sherlockian fan and has had the pleasure of meeting actors Douglas Wilmer and Sir. Christopher Lee who have both played the role of Sherlock Holmes on TV and in the movies. Apart from acting, he also has many other interests which include studying history, collecting autographs and vintage movie memorabilia.
Community content is available under
CC-BY-SA
unless otherwise noted.